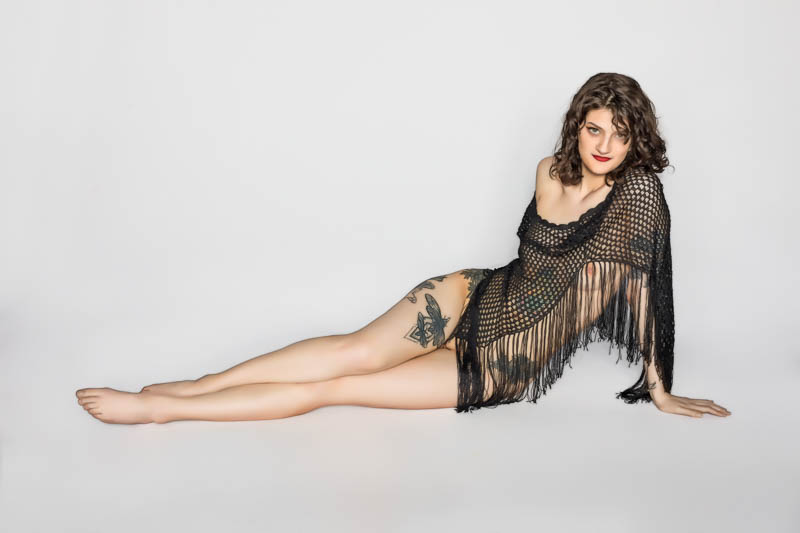 Thanks for your interest in The Pinup Project!
We'll be creating highly processed and visually stylized final images from photos taken in our studio. The inspiration for these images comes from the work of painter Alberto Vargas and photographer Robert Alvarado.
Creating this style of Pinup is something we plan to offer to clients in the near future. The images we'll be creating during these sessions will become a big part of our advertising and marketing. These photos will be posted online (our website, Instagram, Facebook, Deviant Art, and Model Mayhem). We'll be asking you to sign a model release or updating the one we already have with you.
Shooting Style and Your Comfort Level
The intent is to create Images that are suggestive and revealing (sometimes subtle, sometimes not so subtle). It is important that you are comfortable with the approach we're taking.
We would never pressure someone to shoot outside their comfort level. We'll agree and decide on wardrobe (or lack thereof) prior to the session. We will respect your boundaries during the session.
Having said that, it is a good idea to explain what we mean. The styles we plan to shoot are: lingerie/swimsuit, implied nude, concealed nude, and nude.
Lingerie and Swimsuit
We're looking for interesting, provocative, revealing.
Lingerie that tends to always work: bra & panty, stockings, garter belts, corsets, bustiers, oversized button up shirt, chemise. Sheer or semi-sheer items are good as well.
Implied Nude
These kinds of images give the impression that the model is nude, even if they might not be. Props, and sometimes loose clothing, are used to conceal body parts. This usually requires creative adjustments of what is actually being worn. Sometimes it requires being topless behind the prop or loose clothing. In the final image all the private parts are covered.
Concealed Nude
In this case there is no question that the model is nude but she is posed in such a way to cover or conceal private parts. In the final image all the private parts are covered.
Nude
The model is nude and there is no attempt to conceal the private parts.
These next two photos and the banner image at the top of the page are all images we consider as nude. You'll also notice the similarity between the next photo with the example above for Concealed Nude. In this case, it is all about careful posing.
We do not shoot open leg nude images.
The Session
All of the photography will take place in our Eagle River studio. Each session will be about an hour of photography. 
We tend to schedule these sessions on Sundays. If it is impossible for you to make that work, let us know and we'll see about setting up an alternate time.
As always you are welcome to bring someone with you. 
We have a room for changing into your wardrobe and making any last minute adjustments to your hair or makeup
Please arrive camera ready, or as ready as possible given your commute to our studio.
Makeup: Think evening out or glam makeup. I prefer if you do your own but if you absolutely need help we can make something work.
Hair: Whatever style best compliments what you'll be wearing.
Nails: Painted or plain both work, just not chipped
Wardrobe: You are welcome to bring more than one outfit for the session.
After the Session
A few days after the photo session we'll post a gallery online for you to review. This will include all of the photos from your session that are useable. We won't include photos that are test shots, out of focus, improperly exposed (lights didn't fire), or unflattering.
We'll have you select up to four poses and we'll fully process them. You'll receive two versions of each photo: one for use on the web and one for making prints.
Every now and then we'll take a photo you really don't like. You might not like the angle, think it is unflattering, or is too revealing. During your review of the photos we'll have you let us know if any of the photos we took fall into this category. We'll delete and never use any images that fall into this category. This is a collaboration and we want you to be happy about shooting with us.
I like to be very up front about things, so I'll write this here:
You will not get all the files from the session. The processing of the each of these photos is very time consuming. It's not practical for us to process them all. We do not release unprocessed (unfinished) images.
I do not ever provide raw files.
What's Next?
If you would like to discuss setting up a Pinup session click the link below. It will direct your browser to a very short form we'd like you to complete.
If you have any questions you can call or text (907) 727-1284 or email us at gutierrez@gci.net.
We look forward to working with you!